Boston, MA – A public relations campaign produced by Reilly Communications for clients TRO JB, SMRT Inc. and Robins & Morton was honored with a national First Place Award in Media Relations from the Society for Marketing Professional Services (SMPS).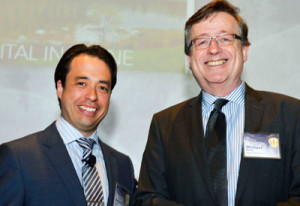 The winning campaign highlighted the success stories achieved by the integrated design and building team formed to plan, design and build the $332 Million Alfond Center for Health in Augusta, Maine for Maine General Health. The team established an Integrated Project Delivery (IPD) contract, with all parties including the owner agreeing to share the risks and rewards under a single partnership agreement. Reilly Communications was honored by the SMPS jury for promoting the fiscal and patient care success of this collaboration through media coverage, speaking engagements, awards, videos and social media posts.
The Maine General Health media campaign was also honored by the Boston Chapter of SMPS in June, winning an award in the Integrated Marketing Campaign category.
The campaign was planned and implemented on behalf of Boston-based architects and engineers TRO JB, Portland, Maine-based architects and engineers SMRT Inc., and Birmingham, Alabama-based building contractor Robins & Morton. The three firms opted to pursue PR opportunities together and hired Reilly Communications to provide public relations strategy and execution for the entire team.
The SMPS Marketing Communications Awards competition is the longest-standing, most prestigious awards program recognizing excellence in marketing and communications by professional services firms. The award winners were announced and honored in Los Angeles during the SMPS National Conference.